Product Reviews for Breads ~ Tortilla's ~ Lavash
All reviews are entered with the newest product at the top.
The wait is over! I can't say enough tasty things about these gems. I'm in love with their buns and find them to be the most fluffy, moist and tasty morsels I've come across yet in the gluten free realm. If only they were all organic! Even though they're not, they're a staple in our house. The first time I bit into one of those fluffy buns, I thought I had some how accidentally bought a wheat bun - seriously! I'm not sure, but I believe that their secret may be a brown rice sour dough like culture. I've done some reading on this subject and it seems that it makes a pretty wonderful gluten free dough. The trick seems to be getting the brown rice culture going, which often seems to employ the use of 'water kefir'. You heard me right, not dairy kefir. I actually found someone on EBay that sells organic water kefir grains (simple search on EBay will find it for you too), but I haven't tried it out yet myself. Through the research I have done on water kefir, it sounds like a great addition to a healthy lifestyle especially if you are dairy intolerant or just don't like the taste.
I've found Sami's at several of my local health food stores, but if you can't they will ship to you. Their Lavash is like a thick tortilla and we use them for mini pizza's or toasted with cheese and cut into wedges with soup.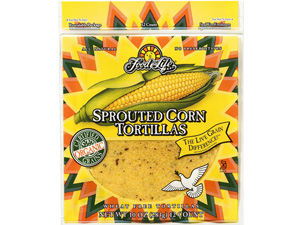 Sprouted Corn Tortillas
Food for Life makes many tasty and interesting products using sprouted grain instead of flour. The recipe for this is based on the Biblical passage of Ezekiel 4:9, 'Take also unto thee Wheat, and Barley, and beans, and lentils, and millet, and Spelt, and put them in one vessel, and make bread of it...'. As I'm only gluten sensitive (but wheat intolerant), I've been able to eat their buns and tortillas from time to time as they are made with organic ingredients and the whole grain is being used which makes the nutrition superior to flour (and wheat isn't the main ingredient). That's not the case with these corn tortillas though! These gems make a healthy and wonderful alternative to corn flour tortillas in enchiladas.
I have often found these in the frozen section of health food stores - be sure to look for them there if you can't find them with the flour tortillas.